Speed up the Commercialization of COVID-19 Vaccines!
2021-03-19

Open the phone and scan
On November 25, Chengdu High-Tech Zone, Shanghai Pharmaceuticals Holding Co., Ltd. ("Shanghai Pharmaceuticals") and Chengdu WestVac Biopharma Co., Ltd. ("WestVac") signed a cooperation agreement in Shanghai. They will rely on the State Key Laboratory of West China Hospital of Sichuan University to develop and commercialize the COVID-19 vaccine, tumor vaccine and other vaccines, join hands to build a full-chain vaccine industry, promote the construction of "Tianfu Vaccine Valley", and help to promote the high-quality development of Chengdu's biomedical industry.
Fan Ruiping, a member of the Standing Committee of the CPC Sichuan Provincial Committee and Secretary of the CPC Chengdu Municipal Committee, attended and witnessed the signing ceremony.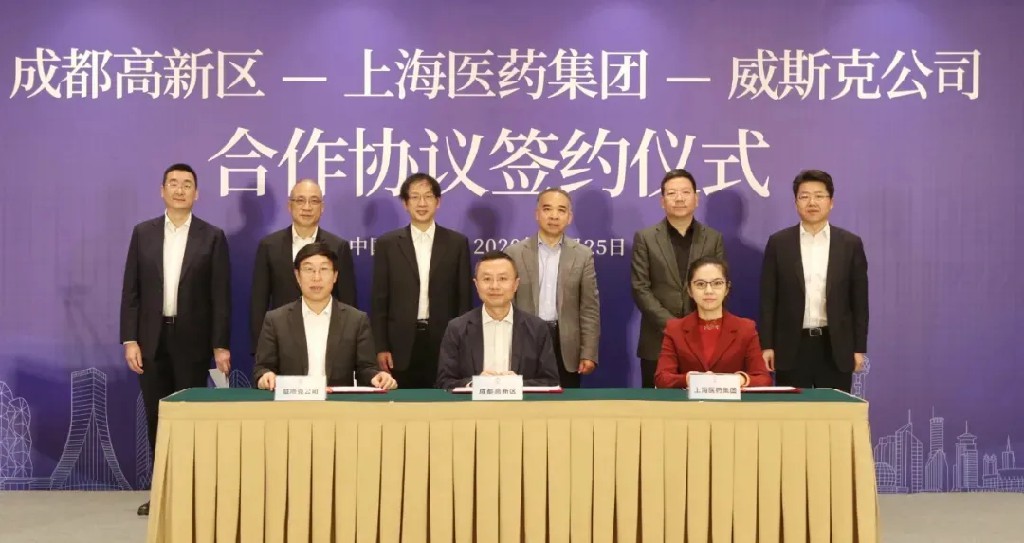 Shanghai Pharmaceuticals is a world-leading manufacturer of brand-name drugs and service provider in the health sector. WestVac was founded by the team led by Academician Wei Yuquan, Director of the State Key Laboratory of Biotherapy at West China Hospital of Sichuan University, and the COVID-19 vaccine developed by the team is one of the 11 COVID-19 vaccine candidates approved by the state for clinical trials, and also the first recombinant protein COVID-19 vaccine made from insect cells in China.
According to the agreement, the three parties will invest in the R&D and production of biological vaccines, complement each other with their respective strengths, strengthen the coordination and synergistic development in vaccine R&D, production capacity expansion, material reserve and supply chain construction, and build Tianfu International Bio-town into a hub for vaccine R&D and production.
Under the agreement, Chengdu Hi-tech Zone, Shanghai Pharmaceuticals and West China Hospital of Sichuan University will invest in building the National Precision Medicine Industry Innovation Center, jointly promote the breakthrough of key technologies and commercialization and industrialization of independent achievements in the fields of precision diagnosis, precision treatment and precision evaluation, and strive to reach both domestically and internationally advanced level in key technology fields such as cell therapy, new tumor-targeted drugs, vaccine development, medical 3D printing and artificial intelligence.
The three parties will also jointly establish Chengdu International Clinical Research Center to construct a clinical research service system of international standard, provide specialized services in the whole process of clinical research for the development and commercialization of pharmaceutical products, and build Chengdu into a globally important center for clinical trials of drugs and medical devices. At the same time, Shanghai Pharmaceuticals also takes Sichuan and Chengdu Hi-tech Zone as an important strategic base for its domestic presence, and joins hands with Chengdu Hi-tech Zone to establish a professional biopharmaceutical incubator and supply chain service center, build the life science talent valley in Western China and carry out specialized cooperation in varied fields of biopharmaceuticals.
Cao Junjie, a city leader, Wei Yuquan, an academician of Chinese Academy of Sciences, and Zhou Jun, President of Shanghai Industrial Investment (Holding) Co., Ltd. and Chairman of Shanghai Pharmaceuticals attended the signing ceremony.